Better off, with Workplace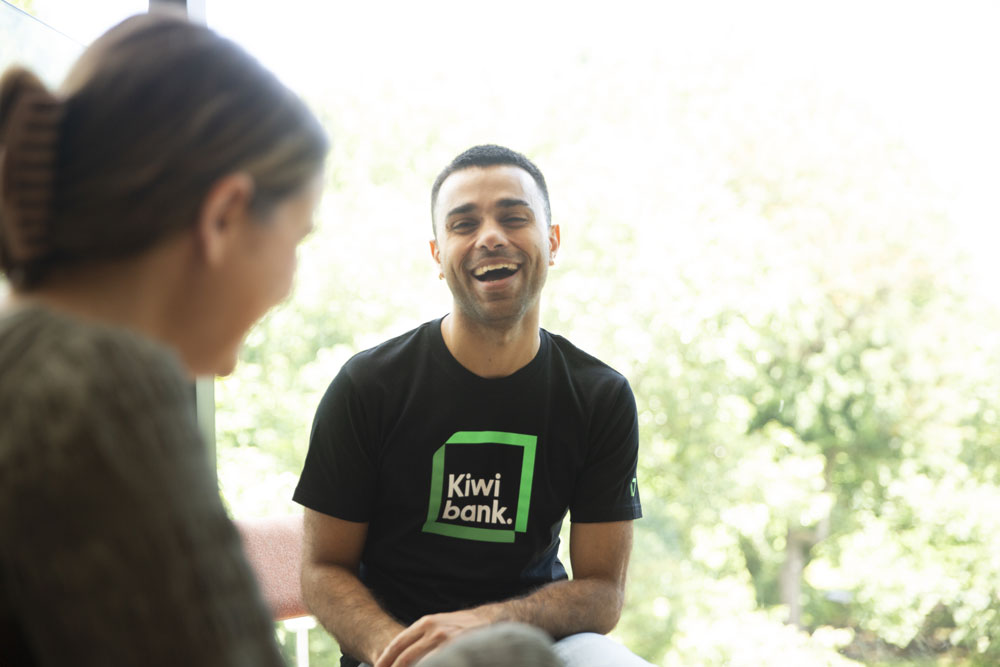 Kiwibank launched Workplace in 2016, and VMG Connect has provided local support to their team since 2022. Recently, Workplace has been instrumental in driving its internal culture by bringing people together and showcasing activity across the business.
"Workplace has given Kiwibank's leadership team a place to communicate authentically and instantly with the Kiwibank team. And in turn, people can engage with us. Workplace allows people to give us real-time, direct and authentic feedback and responses to what we share as a leadership group, with no filter."
Steve Jurkovich
Chief Executive, Kiwibank
With over one million customers, Kiwibank is New Zealand's largest locally-owned bank.
Their 2,500-strong team works in multiple locations throughout New Zealand. But despite their geographical spread, they are united in their purpose: to make Kiwi better off.
And Workplace from Meta helps Kiwibank to deliver on that purpose.
Whether they're a Banking Assistant in the Greymouth branch, an office worker in Wellington, or a mobile mortgage manager travelling between customers, Workplace gives all Kiwibank people a place to connect, participate, and be informed.
"Workplace allows people to hear from, get to know, and engage with people regardless of their role and where they are. Without Workplace, making connections for those people would be really hard."
– Kate Brown, Internal Communications Manager, Kiwibank
Connecting the Kiwibank Whānau, from Kaitaia to Bluff
In a recent survey, Internal Comms asked Kiwibank people what they liked about Workplace. Their responses revealed a clear theme – it's all about the connection Workplace enables.
And that's made a big difference to Kiwibank's frontline teams, some of whom work in remote locations 100kms from the next branch or office. Their worlds are no longer limited to their physical workspace; instead, they can interact with colleagues all over the country and feel part of something much bigger than their local team.
And that leads to increased productivity and improved outcomes when working together. Irrespective of where people are based, they can put a face to a name and get to know each other on a level beyond their role at the bank, which makes for much more effective (and enjoyable!) working relationships.
Workplace helps break down silos at Kiwibank by giving everyone a place to belong, supporting what one survey respondent described as "the feeling of being one team." And that feeling of belonging has recently been recognised globally, with Kiwibank ranked in the top 25% of companies worldwide for culture.
Visible and accessible leadership
Chief Executive Steve Jurkovich is a regular contributor to Kiwibank's Workplace community. And it's not just the standard CE updates you might expect from an All Company email.
Announcing the half-year results, sharing a sombre update from a flood-hit region, having an informal conversation with leadership about an internal project, or checking in from a local branch as he rides by on the Alps to Ocean bike trail. As a familiar face in Kiwibank's 'This is Kiwi' group, Steve often uses video to get messages out to the entire organisation.
Try doing that with 2,500 employees via email. #replyall
A strategic internal comms channel
"People want to go on there because they enjoy feeling part of the Kiwibank whānau and seeing what everyone is up to. It helps us build a strong community amongst all our people despite the fact they're spread all over the country and may never meet some people face to face."
– Kate Brown, Internal Communications Manager, Kiwibank
The Internal Communications team use Workplace as their primary channel for displaying video content. People can view and respond to a video, and the team then use the insights tool to measure how it has performed. Workplace is invaluable in enabling Internal Comms to deliver engaging messaging that reaches the right people to achieve the desired outcome.
It's improving efficiencies when it comes to their role in supporting leaders with their communications too. The 'draft for' feature means Internal Comms can draft posts on behalf of others who can quickly review, approve, and publish on Workplace.
"We use that function every day. It's really, really good."
– Kate Brown, Internal Communications Manager, Kiwibank
And there is a huge amount of content on Workplace showcasing the unique skills, perspectives and experiences of the Kiwibank team. Workplace provides the Internal Comms team with a treasure trove of employee-generated content they can repurpose for other channels or share more widely in organisation-wide groups.
If you want to learn more about how Workplace helps drive business performance and supports a culture of connectivity, get in touch! We'd love to work with you to help solve your communications challenges.